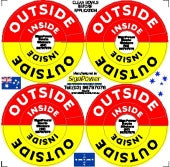 Barefoot Bowls Rings
Take the headache out of Barefoot, Corporate or Try bowls days during setup, packup or instruction. Anyone who has been involved in one of these events knows it takes a great deal of time and concentration to match the sets during pack up. Let's face it most of those old bowls all look the same and are difficult to find their sets.
 Each set of bowls rings are supplied as a set of 4 stickers, 4 x large rings (OUTSIDE) 4x small rings (INSIDE), enough to do a full set of 4 bowls.
Sold in lots of 25 sets with each set a different colour combination.
---
We Also Recommend
---